Exploring the Appraisal Process and Results of a Paid Domain Name Appraisal by Afternic Marketplace's Team of Domain Experts, Including a Print Screen of the Report and Our Analysis of the Value Determined for the Domain, Despite Our Disagreement with the Outcome;
Evaluating the Importance of Human Appraisals for Domain Sellers and the Affordability of Afternic's Service Compared to Potential Profit from a Successful Domain Sale.
If you're a domain seller, you know that one of the most important steps in the process of selling a domain name is to have it appraised. An appraisal helps you determine the fair market value of your domain name, and can also be useful in negotiations with potential buyers. But with so many automated domain appraisal tools available online, it can be difficult to know which one to trust. That's where human domain appraisals come in, and Afternic Marketplace is one company that offers this service.
Afternic Marketplace is a popular platform for buying and selling domain names, and they offer a range of services to help domain sellers get the most out of their assets. One of these services is a human domain appraisal, which is performed by a team of experienced domain experts. The appraisal process involves a thorough analysis of the domain name, taking into account factors like its length, keyword relevance, and marketability.
To get a sense of what a paid domain appraisal from Afternic looks like, we ordered one ourselves. We submitted the domain name in question and paid the $25 fee for the appraisal. After a few days, we received an email from Afternic with a link to our appraisal report and also a .pdf report attached to the email.
Unfortunately, we can't share the appraised domain name with you, as we've chosen to censor it for privacy reasons, but we can tell you that we were disappointed with the appraisal results. Afternic valued the domain at $3,516, which we felt was too low given the potential market for the name. We had expected a higher appraisal, given the popularity of similar domains in our niche.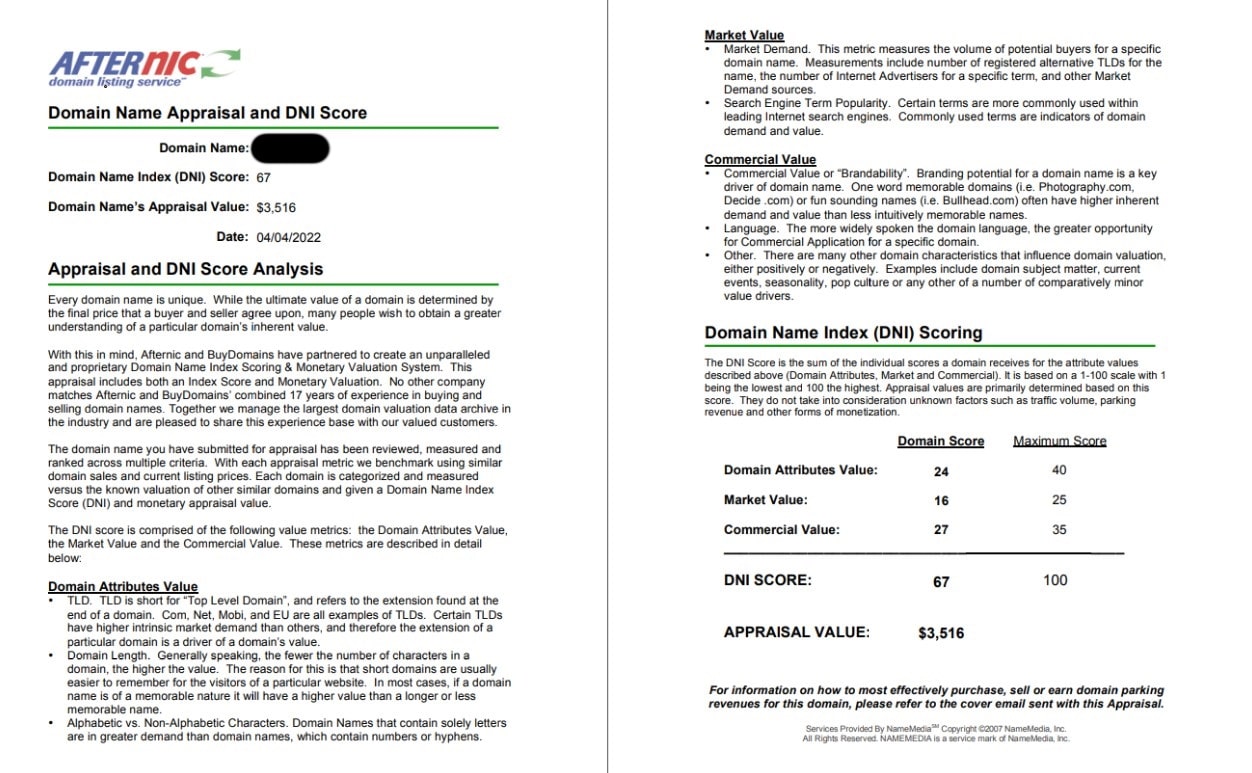 We know that domain appraisals are subjective, and different appraisers may come up with different values for the same domain name, but we were surprised that the appraisal from Afternic was so far off from our expectations. We had hoped that the human appraisal would provide a more accurate estimate of the domain's value than the automated tools we had tried before.
Despite our disappointment with the appraisal results, we still believe that a human domain appraisal is a valuable tool for domain sellers. While it may not always provide the exact value you were hoping for, a human appraisal can give you a more nuanced understanding of the market for your domain name. It can also provide useful insights into the strengths and weaknesses of your domain, which can help you make more informed decisions about pricing and marketing.
It's worth noting that the cost of a human domain appraisal from Afternic is quite reasonable, at $25 for the first one and $20 for each subsequent appraisal. This makes it an affordable option for domain sellers who want to get a professional opinion on the value of their assets. It's also worth considering that the cost of an appraisal is a small investment compared to the potential profit from a successful domain sale.
So, if you're a domain seller who's considering getting an appraisal for your domain name, a human appraisal from Afternic Marketplace is definitely worth considering. While it may not always provide the exact value you were hoping for, it can give you valuable insights into the market for your domain and help you make more informed decisions about pricing and marketing. And at a cost of just $25, it's an affordable investment in your domain selling business.