I am dissatisfied with the fact that NameSilo, the domain registrar, has started charging VAT from its customers in the European Union since the end of last month (June 2023), which did not happen in the past.
Most of my internet domains have been registered with NameSilo for many years because it is a reliable American company that emphasizes the highest level of server security to protect its clients from any potential issues. Over time, I have only heard good things about NameSilo, which is the main reason I chose them to manage the majority of my domains.
NameSilo is not the cheapest registrar on the market, and compared to, for example, Sav.com, I have always had to pay about two extra dollars per domain just to have them registered there, but.. I thought it was worth it because NameSilo is a serious company and it helps avoid any headaches with other cheaper registrars. Cheap and good don't really go hand in hand, and that's why I have chosen to stay with NameSilo for many years.
Unfortunately, I might start looking into other registrars, and I will explain why further. Last month (12 June 2023), I renewed some of the domains that were set to expire in August. Everything was fine, but towards the end of June, when I wanted to renew all the domains expiring in August, to my great surprise and displeasure, NameSilo asked me for VAT payment for the domains I renewed because I am a citizen of a country in the European Union. Americans don't pay VAT, as far as I know.
When I asked the people at NameSilo why I didn't have to pay VAT two weeks ago or in the past, and why I have to do it now, they responded that they have grown as a company and are required to collect VAT to avoid issues with the regulatory authorities of the European Union. They also believe that in the future, all registrars will have to collect these taxes.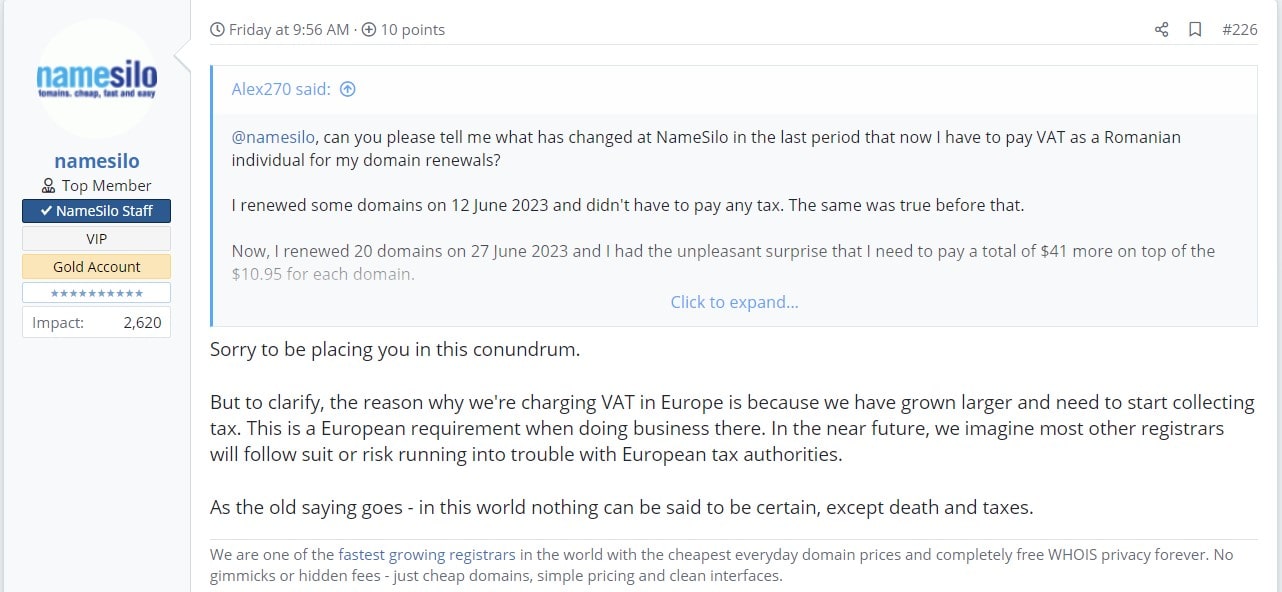 I'm not very familiar with tax-related matters between countries, but I know that I pay for several services from companies in the United States, and none of them require me to pay VAT. For example, I don't pay VAT for my hosting company, where I pay monthly for my VPS. From what I understand, it is up to the American companies whether they want to add VAT for customers from the EU or not. I don't think anyone can force Americans to impose VAT on residents of other countries. VAT in the EU is generally only for member countries.
Anyway, even though I don't understand these things very well, one thing is clear: if I have accepted until now to pay around two extra dollars per domain at NameSilo compared to the cheapest registrar (SAV), it doesn't mean I am willing to pay another two dollars for each domain just to stay with them.
Unfortunately, I have renewed most of my domains with them this year, but I still have a few domains to renew in October, November, and December 2023, which I will start transferring to other registrars that do not charge VAT for EU citizens. Starting next year, I will move all my domains from NameSilo to other registrars when the renewal period approaches because I am not so unintelligent as to throw money out the window.
At the end of this article, I have a question for you, the other domain owners here: besides the fact that .com domains have been increasing by one dollar each year, in the last few years, do you accept paying the higher fees from certain registrars, as well as VAT if you are a citizen of the European Union?