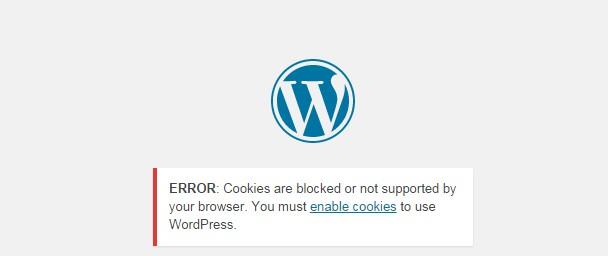 Rezolvare "ERROR: Cookies are blocked or not supported by your browser. You must enable cookies to use WordPress."
Aceasta este eroarea pe care o primeam în ultima perioadă, atunci când încercam să mă autentific în panoul de control WordPress. O singură dată, de fiecare dată. M-am gândit că o fi vreo problemă în legătură cu noua versiune WordPress, mai ales că am mai observat şi altele. De exemplu, funcţia de programare a momentului la care vrei să fie publicat un articol, a început să dea rateuri în WordPress 4, lucru care nu s-a întâmplat niciodată în versiunea 3. Utilizez des această opţiune, în sensul că scriu seara articole, pe care le programez să fie postate a doua zi. Începând cu WordPress 4, mi s-a întâmplat să văd destul de des "missed schedule", articolul respectiv nefiind publicat.
Nu a fost cazul şi cu "ERROR: Cookies are blocked or not supported by your browser. You must enable cookies to use WordPress." aici fiind, mai degrabă, vina mea. Nu a fost vorba despre cookie-uri blocate, ci despre cu totul altceva, însă până mi-am dat eu seama despre ce este vorba, au trecut vreo două ore, timp în care am încercat aproape orice variantă postată pe Internet, în legătură cu această eroare.
Puteam trăi cu ea, mai ales că din a doua încercare reuşeam să mă loghez în WordPress, dar nu am vrut să las lucrurile aşa, cu atât mai mult cu cât mi se părea tare ciudată toată situaţia. De ce se întâmpla doar o singură dată, precum în poveşti şi nu de două ori sau permanent?
Am început prin a dezactiva toate pluginurile, care oricum nu sunt multe la număr, însă făcea la fel. Văzând că nu reuşesc să rezolv problema, am început să caut pe Google soluţia, însă cele mai recente articole despre subiectul în cauză, erau de prin 2012. Cu toate acestea, am zis să încerc variantele prezentate acolo, poate reuşesc să-i dau de cap.
Unii spuneau că acea eroare apare din cauza pluginului de cache (W3 Total Cache). Am încercat tot felul de opţiuni ale lui, legate de cookie-uri, însă nimic. L-am dezactivat şi am editat manual .htaccess. La fel.
Alţii erau de părere că şi tema poate fi de vină, aşa că am puse repede alta. La cât de multe lucruri încercasem, am zis că încă unul nu dăunează grav sănătăţii, ce mai conta că nu prea credeam în varianta asta.
Tot ceea ce am reuşit a fost să-mi pierd timpul inutil, fiindcă nimic din ceea ce am citit pe Internet nu m-a ajutat. Am testat absolut orice, de la debugging în consola Google Chrome, pentru a observa ce se întâmplă atunci când încerc să mă autentific în WordPress şi primesc respectiva eroare, până la verificarea bazei de date, pentru a vedea dacă este setat aşa cum trebuie "cookie domain".
Cel mai mult mă enerva faptul că pe localhost, adică pe serverul de teste instalat pe calculatorul meu, nu primeam această eroare.
Rezolvarea a fost una care m-a făcut să mă gândesc la un facepalm virtual: trecusem în bara de adrese Chrome, linkul către pagina de autentificare WordPress, fără www.
Dacă nu sunteţi atenţi şi procedaţi la fel ca mine, măcar sper că v-am salvat ceva timp, fiindcă în altă parte nu o să găsiţi răspunsul la această problemă.